Rest assured, the Kids First Fund is a careful steward of your money. 100% of your donation will help children. Nothing is deducted for overhead. You can contribute the suggested $30 to $150 to fund the programs described below. Or be a big spender and support multiple activities by donating $500 . . . or maybe $1,000. The Kids First Fund is an IRS registered charity; your donation is tax deductible. You will automatically receive an email confirmation via email.
Latvian kids meet Jimba, the child abuse awareness program mascot.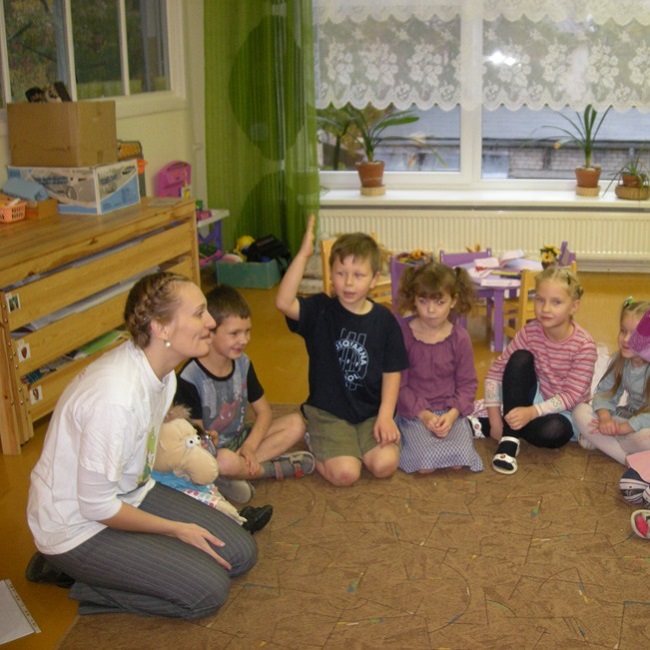 School-based programs teach children about improper touching and what to do if this happens.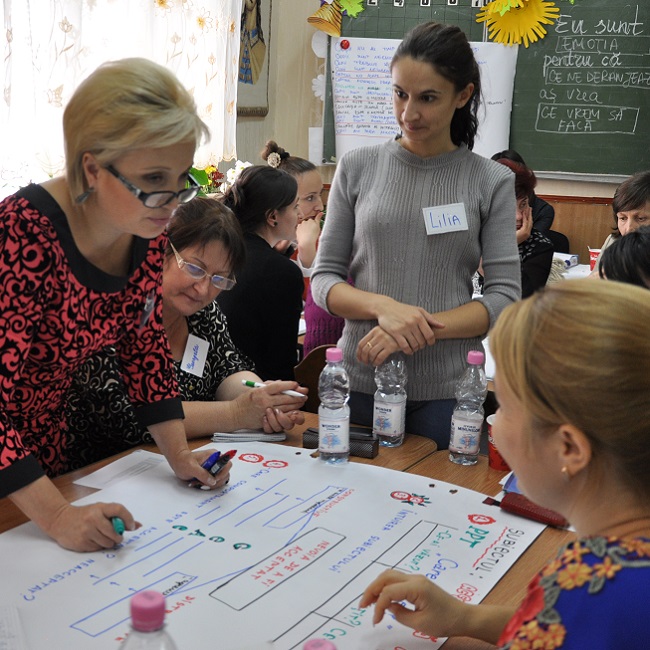 Teachers in Moldova learn how to present child abuse awareness materials to their students.

Your donation can help fund these activities for 2016:

$150: "Jimba" puppet and program kit - Latvia. The materials in the kit include hand puppets, videos, songs, worksheets, books, and a program manual. These are used for in-classroom training for the Jimba child abuse prevention program. The price is per kit; 30 kits are required for Latvia each year.

$100: "Jimba" school posters - Latvia. This is the printing cost for 1,000 posters to be distributed in schools to promote the child abuse prevention message among students, teachers, and parents.

$85: Helping high-risk families - Latvia. Social worker teams in eastern Latvia reach out to high-risk families to conduct child-abuse awareness and effective parenting training. This amount provides financial support for this program for one week.

$50: Teacher training for a school - Moldova. The child abuse awareness and prevention project will reach about 300 schools in Moldova during 2016. This is the cost of training teachers at a single school, who conduct sessions for their students.

$50: Educational books for parents - Latvia. This amount will purchase 50 books given to parents during child abuse prevention sessions in Latvia. Overall, 1,000 copies of books will be distributed each year.

$30: Training materials for 5 schools - Moldova. This amount will purchase the "Grain of Sand" materials used to spread the message of child abuse awareness and prevention at 5 schools.


Join our E-Mail Newsletter List:


Receive regular update via e-mail about the Kids First Fund. You will only receive e-mail messages from the Kids First Fund. We will not share your e-mail address with other organizations. Please click on the link below and send an e-mail to us. Specify "newsletter list" in the subject line.
Please send e-mails using this format: "Sorensen" followed by @KidsFirstFund.org.

Join our list of contributors:


Make your check payable to the Kids First Fund, Inc.
Mail your check to:
Kids First Fund
1916 East Kensington Blvd.
Shorewood, WI 53211, USA

Please include your postal and e-mail addresses. You will be automatically placed on our e-mail newsletter list. All donations will receive a written confirmation for your tax records.

Click here to donate appreciated stock.